Because of a lapse in government funding, the information on this website may not be up to date, transactions submitted via the website may not be processed, and the agency may not be able to respond to inquiries until appropriations are enacted.
The NIH Clinical Center (the research hospital of NIH) is open. For more details about its operating status, please visit cc.nih.gov.
Updates regarding government operating status and resumption of normal operations can be found at USA.gov.
March 2, 2017 11:00AM - 12:00PM
Lipsett Amphitheater (Building 10), NIH Campus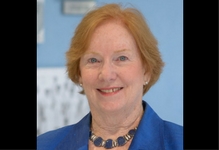 On Thursday, March 2, 2017, Linda H. Aiken, PhD, FAAN, FRCN, RN, presented the first 2017 NINR Director's Lecture on the NIH Campus in Bethesda, Maryland. In her talk, "Nursing's Impact on Patient Outcomes," Dr. Aiken described her program of research which shows that nurses with higher levels of qualifications, fewer patients to care for, and improved working environments have better patient outcomes.
About the Speaker:
Dr. Linda H. Aiken is the Claire Fagin Leadership Professor of Nursing, Professor of Sociology, and Director of the Center for Health Outcomes and Policy Research at the University of Pennsylvania. Dr. Aiken conducts research on the use of performance measures to demonstrate relationships between nursing care and patient outcomes, and is the author of more than 300 scientific papers. Her research awards include the Baxter Health Services Research Prize, the AcademyHealth Distinguished Investigator Award, the Individual Codman Award from the Joint Commission, and the National Academy of Medicine's 2014 Lienhard Award for the cumulative impact of her research on the improvement of personal health services. She has directed studies of the impact of nursing on patient outcomes in over 30 countries. Dr. Aiken is a former President of the American Academy of Nursing, an Honorary Fellow of the Royal College of Nursing, an elected Fellow of the American Academy of Arts and Sciences, and a member of the National Academy of Medicine.
About the Event:
The NINR Director's Lecture series is designed to bring the nation's top nurse scientists to the NIH campus to share their work and interests with a transdisciplinary audience.