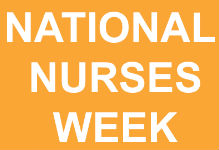 In recognition of National Nurses Week (which is observed every year May 6–12), Dr. Patricia A. Grady has posted a new Director's Message on the NINR website. In her message, "NINR Recognizes 2017 National Nurses Week," Dr. Grady highlights NINR-funded research that has helped pave the way for improved patient outcomes.
Dr. Grady notes that advances in nursing research have helped parents of a premature infant learn to better care for their child. Additionally, nursing research is developing technologies to help older adults age in place, instead of moving to nursing homes as their health care needs change.
Reflecting upon these and other achievements, Dr. Grady stated, "I am honored to direct an Institute that supports the efforts of nurses and nurse scientists at all career levels, whose hard work and dedication embody the nursing profession."
The full Director's Message is available here.
---