Palliative care provides comfort to your child and family.
Dealing with the diagnosis of a serious illness in a child is difficult for the entire family. Palliative care can help.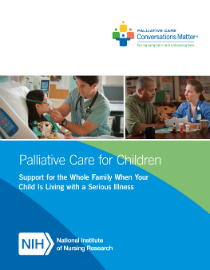 This brochure, available in English and Spanish, provides an overview of pediatric palliative care and answers questions that parents and families may have, such as:
How do I know if my child or family needs palliative care?
Does accepting palliative care mean our family is giving up on other treatments?
How can my child's pain be managed?
How can our family get palliative care?
The at-a-glance fact sheet provides a brief overview of pediatric palliative care and answers some common questions that families may have such as:
When can palliative care start?
How does it work?
And where is care provided?
This resource about finding support is a 4"x9", double-sided card with sections about different types of support that families may want to access - things like sibling support, respite care and school resources.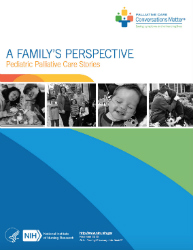 In "A Family's Perspective," four families share their experiences with pediatric palliative care and how the care they receive impacts their children and their lives. The stories highlight the benefits of pediatric palliative care and provide families' perspectives on this type of care.[HTML][PDF]
 
This vignette shares the story of Rachel-a pediatric neuroblastoma patient-and her family. The story demonstrates how palliative care can positively influence a patient's and family's experience with illness. Video length: 3 min, 13 sec.
If you think palliative care could help your child, your family or you, ask for it now. Talk with your child's health care provider about palliative care.
To see whether a hospital in your area offers a palliative care program, you can go to the Palliative Care Provider Directory of Hospitals to search by state and city.
Pediatric palliative care team members share their experiences through a series of interviews. Read more.
Frequently Asked Questions
For a list of common questions about pediatric palliative care, visit our "Palliative Care: Conversations Matter" Frequently Asked Questions page.
General Information
For general information about palliative care, download NINR's brochure, Palliative Care: The Relief You Need When You're Experiencing the Symptoms of Serious Illness. This brochure is available in both English and Spanish.