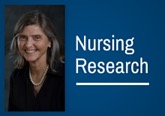 As a nurse-scientist, teacher, and practitioner, Pam Hinds, PhD, thinks she is fortunate to advance palliative care to support families.
Dr. Hinds is the Executive Director of the Department of Nursing Science, Professional Practice & Quality; Research Integrity Officer at Children's National Hospital in Washington, DC and Professor of Pediatrics at George Washington University. In that capacity, she has seen mounting evidence of palliative care as a beneficial approach to caring for children with serious illnesses and their families.
Nurses play a special role in palliative care because they spend the most time at bedsides with families, explains Dr. Hinds. "We get the opportunity for more discussions, more observations, more interactions. We can bring important information… back to other members of the team, encourage and collaborate with them in developing the next clinical steps with the child, and be the point person for delivery of that care plan." Dr. Hinds believes nurses act as important translators-combining clinical, palliative care, and family knowledge-to help create the best plan for each child and family.
A Message to Families
Dr. Hinds' experience has fostered her respect for the deep concern of families to maintain the highest possible quality of life for their children. She believes that part of her job as a nurse is to reassure them.
"Here's what I would like anyone who must confront serious illness in a child to know: we are deeply committed to your child and your family. We will work very hard to learn what your care preferences are for your child, and to honor them, and we will not waiver in our care and attention."
Supporting Families through Transition
While nurses play an essential role in supporting quality of life for their pediatric patients, sometimes that support must extend to helping families confront loss. Dr. Hinds's recent research focuses on bereavement, which is a component of palliative care. To read more about Dr. Hinds's work in this area, click here. Her team's work also includes incorporating the child's voice regarding their symptom suffering and treatment toxicities experienced while receiving therapies for a life-threatening illness. 
Looking Ahead
Dr. Hinds discusses future directions of palliative care research
Though the research is preliminary, there is evidence emerging around how a palliative care team, and nurses in particular, can support parents. Common among parents is their concern with being a good parent. Dr. Hinds' research asked parents what clinicians could do to support them. Responses indicate elements related to words, touch, physical presence, and sharing observations about parent actions–all of which will eventually comprise an intervention.
The care experience can vary. "We know that what's happening at a place like Children's National, compared to what is happening in less well-resourced communities, is uneven," says Dr. Hinds. That is when new technology can make a difference.
"When you have tools like [video chat], where you can communicate with families at home, we can set up regular calls so that we continue to follow them at home."
Dr. Hinds believes there is a need for a combination of family supports, but technology is one approach that can make a positive impact in the years ahead.