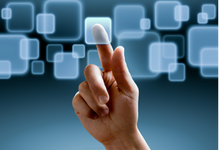 Registration for NINR's "Precision Health: Smart Technologies, Smart Health" Boot Camp opens April 2, 2018 at 12 noon ET. Registration will close when the course is full, so register early. The Boot Camp will address digital health data and technologies that enable "smart health" and improved patient outcomes.
The Boot Camp will take place July 23-27, 2018, on the NIH campus in Bethesda, Maryland.
This year's Boot Camp will:
Explore the state-of-the-art of digital health, including the use of wearables, sensors, and virtual/augmented reality; the use of omics data in health care; and the creation of an interactive system for using health data.
Discuss strategies for research and identify opportunities for and challenges to using digital health.
Share knowledge and experiences with leaders in the field.
This year's Boot Camp will also include a mini-symposium and poster session highlighting the contributions of nursing science in promoting precision and digital health. It will be held in conjunction with Boot Camp on the afternoon of Monday, July 23.
Graduate students, faculty, and clinicians who are citizens or permanent U.S. residents may register. For more information or to register, please visit www.ninr.nih.gov/bootcamp.