Chronic Wound Microbiome Dynamics Influence Healing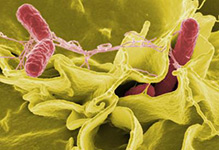 Microbial infections have been associated with approximately 50% of impaired healing of chronic wounds, but there are many gaps in understanding this relationship. Technologies to dissect wound microbiomes, or microbial populations, have just become available; these new tools analyze microbiome composition directly, replacing unreliable culturing methods. Diabetic foot ulcers (DFUs) are common chronic wounds, affecting 15-25% of diabetes patients and can lead to amputation. Researchers conducted a longitudinal study of DFUs in a cohort of diabetes patients and identified characteristics of dynamic microbial populations for wounds that healed quickly and for wounds that persisted.
The study yielded four different microbial "community types" (CTs) with different percentages of microbial classes, such as predominantly staphylococcus, predominantly staph aureus, or highly diverse populations of more than 20 different microbes. The microbial populations of wounds that healed quickly were "unstable": over time, they changed from one CT to another CT more frequently. In wounds that took longer to heal, there were fewer transitions from one CT to another CT over the observation period. The researchers concluded that effective clinical control of chronic wounds disrupts bacterial colonization of the wound. These findings about microbiome dynamics may also be applicable to chronic wounds in a broad array of health conditions.
Temporal Stability in Chronic Wound Microbiota Is Associated with Poor Healing. Loesche M, Gardner SE, Kalan L, Horwinski J, Zheng Q, Hodkinson BP, Tyldsley AS, Franciscus CL, Hillis SL, Mehta S, Margolis DJ, Grice EA. J Invest Dermatol. 2017 Jan;137(1):237-244. PMID: 27566400
Pain Experience Changes During the Menopause Transition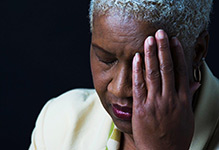 Adults experience increased pain in middle age, which can have a significant impact on quality of life and contributes to increased health care visits and costs. The Study of Women's Health Across the Nation (SWAN) is a long-term, community-based, multi-site longitudinal study funded, in part, by NINR. Pre-menopausal women were enrolled in SWAN in the mid-1990s and a wealth of clinical and psychosocial data has been collected annually. Researchers examined general bodily pain in the SWAN cohort across the menopausal transition. Women reported gradual increases in bodily pain from the beginning of the study, approximately 7 years prior to their final menstrual period (FMP), followed by gradual decreases in bodily pain to the end of the study, about 5 years after FMP. The baseline bodily pain measures taken at the beginning of the study were equivalent to the pain measures at the end of the study. In general, the increases and decreases in pain severity were not deemed clinically meaningful, but the changes in pain levels were statistically significant. Women reporting high levels of pain from menstrual cramps had the largest decreases in bodily pain in late menopause. As in many other pain conditions, women in SWAN with sleep disturbances and depression experienced the greatest increases in pain over time.
Pain Severity in Relation to the Final Menstrual Period in a Prospective Multiethnic Observational Cohort: Results from the Study of Women's Health Across the Nation. Lee YC, Karlamangla AS, Yu Z, Liu CC, Finkelstein JS, Greendale GA, Harlow SD, Solomon DH. J Pain. 2017 Feb;18(2):178-187. PMID: 27836812
Interdependence between Caregivers and Patients with New Incurable Cancer Diagnoses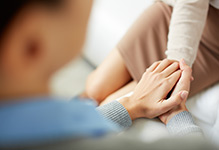 Patients newly diagnosed with incurable cancer are frequently overwhelmed with symptom burden, emotional distress, and other issues, which can interfere with immediate demands, such as decision-making about treatment. Their family caregivers also experience psychological symptoms upon learning of the loved one's life-limiting illness, but, frequently, the health care system does not attend to their needs for preparation, support, and guidance. To gain insights into managing the news of incurable cancer diagnoses better, researchers explored the interdependent emotions and behaviors of caregiver-patient dyads. Self-report results indicated that patients had greater depressive symptoms than caregivers, as well as more depressive symptoms than non-patients in the community. Caregivers had greater anxiety symptoms than patients in the dyad and more anxiety symptoms than general members of the community. Interdependence of dyads' psychiatric symptoms was reflected in the association of patients' anxiety symptoms with their respective caregivers' depressive symptoms, and vice versa—caregivers' anxiety symptoms were associated with the patient's depressive symptoms. The authors also noted that patients with non-spousal caregivers experienced greater depressive symptoms than patients with spousal caregivers. These findings identify risk factors for caregiver depression that could be ameliorated with intervention.
Jacobs JM, Shaffer KM, Nipp RD, Fishbein JN, MacDonald J, El-Jawahri A, Pirl WF, Jackson VA, Park ER, Temel JS, Greer JA. Distress is Interdependent in Patients and Caregivers with Newly Diagnosed Incurable Cancers. Ann Behav Med. 2017 Jan 17. PMID: 28097515
Urinary Peptide May Aid in Identifying Rapid Bone Loss in Menopausal Women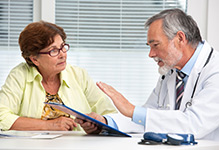 Menopause represents a period of rapid bone loss in women, putting them at greater risk of fractures. The pattern of bone loss during menopause parallels changes in urinary N-telopeptide (U-NTX), a urinary marker of collagen breakdown, raising the possibility that U-NTX may be useful in assessing rates of bone loss and helping clinicians identify women who are losing bone at a faster than normal rate. To assess the ability of the marker in gauging the rate of bone loss, U-NTX was measured in early postmenopause in participants of the Study of Women's Health Across the Nation (SWAN), a study supported, in part, by NINR. Scientists then examined the association between U-NTX and annual rates of bone mineral density loss in the lumbar spine and femoral neck bone across the menopause transition, after the transition, and over the combined period. Researchers found that higher levels of U-NTX in early postmenopause were most strongly associated with greater bone loss across the menopause transition and more strongly associated with rate of bone loss in the lumbar spine than in the femoral neck. The finding may aid early identification of women who have experienced rapid bone loss during this critical period, allowing for timely interventions for preventing further bone loss, irreparable damage, and risk of fractures.
Shieh A, Ishii S, Greendale GA, Cauley JA, Lo JC, Karlamangla AS. Urinary N-telopeptide and Rate of Bone Loss Over the Menopause Transition and Early Postmenopause. J Bone Miner Res. 2016 Nov;31(11):2057-2064. PMID: 27322414
Cancer Type Plays a Role in Palliative Care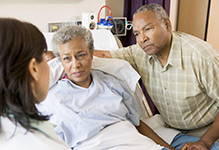 Blood cancer patients are less likely to access palliative care services than patients with solid tumors, indicating these patients may have unmet palliative care needs. Little is known about blood cancer patients' unique needs compared to those patients with advanced solid tumors, though differences in use of palliative care likely reflect a fundamental difference in features between blood cancer and solid tumor cancers. Using the framework of Measuring What Matters (MWM), an initiative that prioritizes quality measures in palliative care practice and assesses how clinicians care for palliative care patients, researchers investigated adherence to MWM measures by palliative care clinicians caring for patients with blood cancer compared to those with solid tumors. Blood cancer patients were more likely to be seen in acute care settings compared to solid tumor patients, who were more often seen at home or in clinics. Clinician adherence to MWM was high for measures of pain treatment, documentation of a surrogate, treatment preferences, and receiving care consistent with documented preferences with both cancer types. However, clinicians seeing hematology patients had significantly lower adherence to measures addressing non-pain symptoms and for addressing emotional or psychological needs compared to those with solid tumors. The findings indicate that palliative care clinicians approach the care of patients differently based on cancer type and suggest two key areas for quality improvement initiatives in palliative care in hematology.
LeBlanc TW, Ritchie CS, Friedman F, Bull J, Kutner JS, Johnson KS, Kamal AH; AAHPM Research Committee Writing Group. Adherence to Measuring What Matters Items When Caring for Patients with Hematologic Malignancies Versus Solid Tumors. J Pain Symptom Manage. 2016 Dec;52(6):775-782. PMID: 27810570