NINR Mission Statement
The mission of the National Institute of Nursing Research (NINR) is to promote and improve the health of individuals, families, and communities. To achieve this mission, NINR supports and conducts clinical and basic research and research training on health and illness, research that spans and integrates the behavioral and biological sciences, and that develops the scientific basis for clinical practice.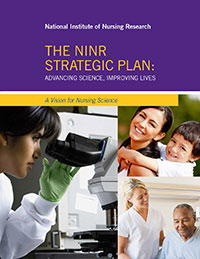 NINR Strategic Plan
NINR's Strategic Plan: Advancing Science, Improving Lives, focuses on areas of science in which the health needs are greatest, and in which NINR-supported research can have the largest impact. It is organized around four areas of scientific focus: symptom science, wellness, self-management of chronic conditions, and end-of-life and palliative care. Two other areas, promoting innovation and developing the nurse scientists of the 21st century, are emphasized in all areas of NINR's research programs. The Plan is intended to be a living document, one which can be adapted as new opportunities and challenges arise.
Read the NINR Strategic Plan: Advancing Science, Improving Lives (complete PDF version, 3.1 MB).
To order print copies, please call 301-496-0207 or send an email to info@ninr.nih.gov.