March 2, 2017 11:00AM - 12:00PM
Lipsett Amphitheater (Building 10), NIH Campus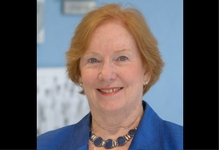 On Thursday, March 2, 2017, Linda H. Aiken, PhD, FAAN, FRCN, RN, will present the first 2017 NINR Director's Lecture, from 11:00 a.m. to 12:00 noon, in Lipsett Amphitheater in the Clinical Center (Bldg. 10) on the NIH Campus in Bethesda, Maryland. In her talk, "Nursing's Impact on Patient Outcomes," Dr. Aiken will describe her program of research which shows that nurses with higher levels of qualifications, fewer patients to care for, and improved working environments have better patient outcomes.
About the Speaker:
Dr. Linda H. Aiken is the Claire Fagin Leadership Professor of Nursing, Professor of Sociology, and Director of the Center for Health Outcomes and Policy Research at the University of Pennsylvania. Dr. Aiken conducts research on the use of performance measures to demonstrate relationships between nursing care and patient outcomes, and is the author of more than 300 scientific papers. Her research awards include the Baxter Health Services Research Prize, the AcademyHealth Distinguished Investigator Award, the Individual Codman Award from the Joint Commission, and the National Academy of Medicine's 2014 Lienhard Award for the cumulative impact of her research on the improvement of personal health services. She has directed studies of the impact of nursing on patient outcomes in over 30 countries. Dr. Aiken is a former President of the American Academy of Nursing, an Honorary Fellow of the Royal College of Nursing, an elected Fellow of the American Academy of Arts and Sciences, and a member of the National Academy of Medicine.
About the Event:
This event is free, and open to the public. Click here https://ninraikenlecture.eventbrite.com to register and add this event to your calendar.
To request reasonable accommodations, including sign language interpretation, please contact Nathan Brown at 301-594-9262 / nathan.brown2@nih.gov or the Federal Relay at 1-800-877-8339 before February 23, 2017.
The NINR Director's Lecture series is designed to bring the nation's top nurse scientists to the NIH campus to share their work and interests with a transdisciplinary audience.
Future Director's Lectures
Dr. Kate Lorig "Chronic Disease Self-Management—Evidence, Instruments, Translation, and Beyond," May 23, 2017
Dr. Mary Beth Happ "Giving Voice to the Voiceless: Improving Communication with Critically Ill Patients," September 20, 2017
Dr. Margaret Heitkemper "Symptom Science in Irritable Bowel Syndrome: Biomarkers to Intervention," November 14, 2017
Updated Date: April 5, 2016